High crown ponytail hairstyle
Ponytails that sit high on your crown have a fun, flirty feel. A sleek, high ponytail will swing as you walk, and this simple style looks effortlessly chic. Although it has a more relaxed feel, a high crown ponytail is still controlled enough to be work-appropriate,especially if you're going out in the evening or have an important meeting or interview during the day. The key to this look is to keep your hair smooth up to the ponytail. For a more youthful, sporty style, keep the finish a little loose and flyaway.

DIFFICULTY LEVEL
Easy
IDEAL HAIR LENGTH
Long
HAIR EXTENSIONS NEEDED?
No, but you can use a ponytail extension on shorter hair.
ASSISTANCE NEEDED?
No
ACCESSORIES
If you need to pin back your bangs, a jeweled pin is the only accessory required. Metallic hair cuffs can also take this sleek ponytail one step further.
TRY THIS
Wear this ponytail super sleek with straight hair, or give it a cute,sporty look with a little curl at the ends. This will encourage the pony to bounce as you walk.
HOW TO GET IT
WHAT YOU NEED
• Large paddle brush
• Fine bristle brush
• Hair elastic
• Bobby pins
• Hairspray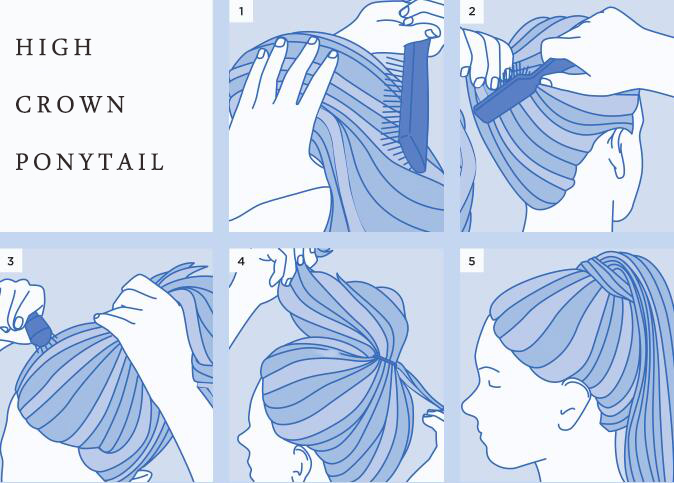 1. Brush your hair to remove any knots and smooth it out. Use a large paddle brush to gather all your hair at the crown.
2–3. Next, take a smaller bristle brush to smooth all your hair back into a ponytail. You can use the bigger paddle brush, but you'll have more control with a smaller brush.
4. Secure your ponytail with an elastic. Ensure it is a tight fit so that your ponytail stays up high on or near the crown of your head. Take a small section of hair from your ponytail and wrap it around the base of your ponytail to hide the hair elastic. Use a bobby pin to secure it underneath your ponytail so that it won't be seen.
5. Use hairspray to tame any flyaways and keep your ponytail looking sleek, or allow some of the flyaways to stay to give the style a more casual, relaxed look.
TOP TIP
To keep this ponytail super sleek, use this backstage styling secret: spray hairspray on a toothbrush and use it to brush back any baby-fine hairs and flyaways. This technique won' t overload your hair with hairspray, but will keep all those fine hairs in place.